Total:11507 USD
Item:10147 USD Shipping:1360 USD
FMUSER 1KW TV Transmitter
UHF/VHF all band available
VHF/UHF 1KW TV transmitter Professional designed and manufactured
high reliability and low price.
Professinal designed for TV stations
Big color LCD with touch panel displays real-time parameters
Switched power supply
High reliability
Low price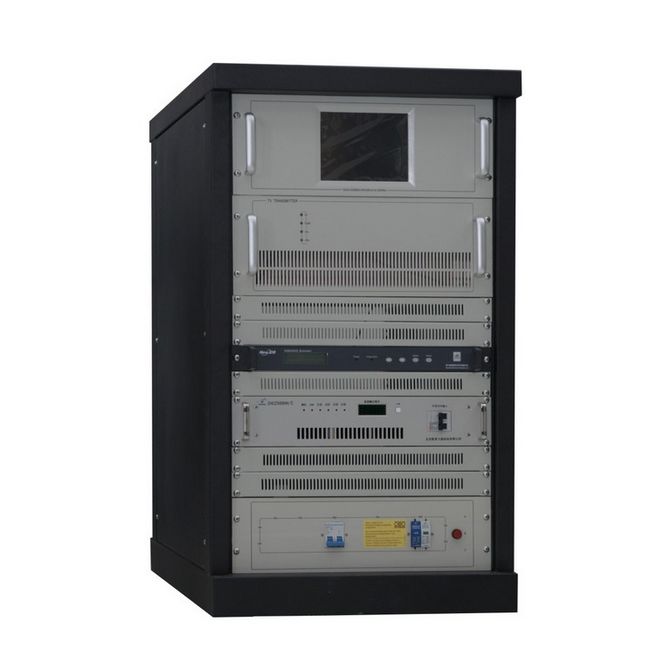 1KW TV Transmitter
Overview:
This product is the all solid-state Single-channel TV Transmitter, it adopts professional TV exciter, and it can use the single/duel exciter configuration, switching automatically.
This transmitter has a variety of linear and non-linear pre-correction function, carrier frequency offset, and precision bias (with external precision reference source) function.
It can prefabricate and control the half-power output, and it has remote control telemetry interface.
The power amplifier used LDMOS FET, the analog and digital are both compatible, and it used high-quality switch parallel power.
The power amplifier and power supply are both used hot-plug devices.
The power loss and standing wave of the one-time synthesis power combiner is small.
The module of power amplifier display the working parameters in real-time.
The whole machine has the protection of over-current, over temperature, over power and over-standing wave ratio.
The master touch screen displays the working parameters of the whole machine and the module of power amplifier (PA) in real-time.
The 1KW transmitter is installed in one 19inch chassis; it's suitable for medium or small TV station.

Features:
● The whole machine is single-channel, image with audio together.
● The redundant configuration design can reduce the rate of inactive to zero.
The exciter redundancy design: the main exciter and its spare exciter can switch automatically (the spare exciter is optional). When the main exciter broke down, it can switch to the spare exciter uninterrupted.
The power amplifier redundancy design: multiple amplifiers integrated; the modules of PA are high-consistency. These two exciters are the spare one with each other and can exchange easily.
The power supply redundancy design: parallel current sharing power from multiple switching power supply; the computer can monitor power supply's working condition and adjust its working condition automatically.
● The management and monitoring are intelligent and on network, it has the external PC interface.
● It has the technical data detection, monitoring systems and full-featured computer control software with auto-diagnostic function. All technical parameters can be read through the LCD display panel.
● Comprehensive protection measures can reduce the damage of equipments. This machine has protection about no video; VSWR is too large, overheating, over-stimulus, missing phase protection and lightning protection. The switch has protection about overvoltage, over current, under voltage, over temperature, short circuit and lightning protection.
● All power supplies are switching power supplies; high efficiency, excellent regulator range, strong adaptable from the change of the external voltage.
● It adopts modular design concept.
● Hot-pluggable design: power amplifier and switching power are supporting the Hot-plug, it's easy to debug and maintenance; improve the reliability.
● The fan is built-in the chassis, the transmitter has a compact structure and a beautiful shape.
Technical Specifications:
Overall performances:
1. Working frequency: VHF/UHF Channel arbitrary choice
2. Output power: 1KW
3. Output impedance: 50Ω
4. VSWR of output load impedance: ≤1.12
5. Inter-modulation distortion: ≤-50dB
6. Useless transmission: In adjacent channel≤-40dB
Out adjacent channel≤-60dB
7. RF output interface: 7/16"
8. Power supply: Single-Phase 220V
9. Power Consumption: 2.5KW
10. Shape size: 1135mm×675mm×955mm
11.Weight: 136KG
Image performance:
1. Video frequency input level: 1VP-P positive polarity
2. Video frequency input impedance: 75Ω
3. DG: ±5%
4. DP: ±5°
5. Luminance nonlinear: ≤10%
6. Group delay: ≤±60ns
7. Signal-to-clutter ration of low frequency period interference: ≥50dB
Sound performance:
1. Audio input level: 0dBm±6dB
2. Audio input impedance: 10KΩ (imbalance)
600Ω (Balance)
3. Maximum frequency deviation: ±50KHz
4. Harmonic distortion: ≤1%
5. The amplitude frequency characteristics: ±1dB
6. Signal-to -clutter: ≥60dB
Total:11507 USD
Item:10147 USD Shipping:1360 USD

How far(long) the transmitter cover?
The transmission range depends on many factors. The true distance is based on the antenna installing height , antenna gain, using environment like building and other obstructions , sensitivity of the receiver, antenna of the receiver . Installing antenna more high and using in the countryside , the distance will much more far.
EXAMPLE 5W FM Transmitter use in the city and hometown:
I have a USA customer use 5W fm transmitter with GP antenna in his hometown ,and he test it with a car, it cover 10km(6.21mile).
I test the 5W fm transmitter with GP antenna in my hometown ,it cover about 2km(1.24mile).
I test the 5W fm transmitter with GP antenna in Guangzhou city ,it cover about only 300meter(984ft).
Below are the approximate range of different power FM Transmitters. ( The range is diameter )
0.1W ~ 5W FM Transmitter :100M ~1KM
5W ~15W FM Ttransmitter : 1KM ~ 3KM
15W ~ 80W FM Transmitter : 3KM ~10KM
80W ~500W FM Transmitter : 10KM ~30KM
500W ~1000W FM Transmitter : 30KM ~ 50KM
1KW ~ 2KW FM Transmitter : 50KM ~100KM
2KW ~5KW FM Transmitter : 100KM ~150KM
5KW ~10KW FM Transmitter : 150KM ~200KM
How to contact us for the transmitter?
Call me +8615915959450 OR
Email me [email protected]
1.How far you want to cover in diameter ?
2.How tall of you tower ?
3.Where are you from ?
And we will give you more professional advice.

About Us
FMUSER.ORG is a system integration company focusing on RF wireless transmission / studio video audio equipment / streaming and data processing .We are providing everything from advice and consultancy through rack integration to installation, commissioning and training.

We offer FM Transmitter, Analog TV Transmitter, Digital TV transmitter, VHF UHF Transmitter, Antennas, Coaxial Cable Connectors, STL, On Air Processing, Broadcast Products for the Studio, RF Signal Monitoring, RDS Encoders, Audio Processors and Remote Site Control Units, IPTV Products, Video / Audio Encoder / Decoder, designed to meet the needs of both large international broadcast networks and small private stations alike.

Our solution has FM Radio Station / Analog TV Station / Digital TV Station / Audio Video Studio Equipment / Studio Transmitter Link / Transmitter Telemetry System / Hotel TV System / IPTV Live Broadcasting / Streaming Live Broadcast / Video Conference / CATV Broadcasting system.

We are using advanced technology products for all the systems, because we know the high reliability and high performance are so important for the system and solution . At the same time we also have to make sure our products system with a very reasonable price.

We have customers of public and commercial broadcasters, telecom operators and regulation authorities , and we also offer solution and products to many hundreds of smaller, local and community broadcasters .

FMUSER.ORG has been exporting more than 13 years and have clients all over the world. With 13 years experience in this field ,we have a professional team to solve customer's all kinds of problems. We dedicated in supplying the extremely reasonable pricing of professional products & services. Contact email : [email protected]
Our Factory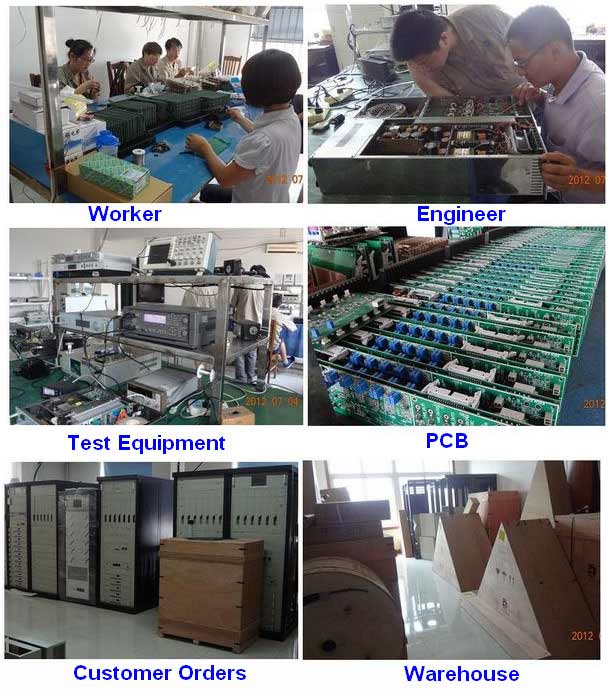 We have modernization of the factory . You are welcome to visit our factory when you come to China.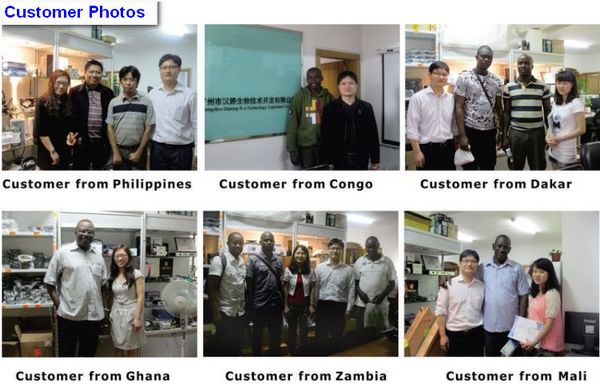 At present , there are already 1095 customers around the world visited our Guangzhou Tianhe office . If you come to China , you are welcome to visit us .
At Fair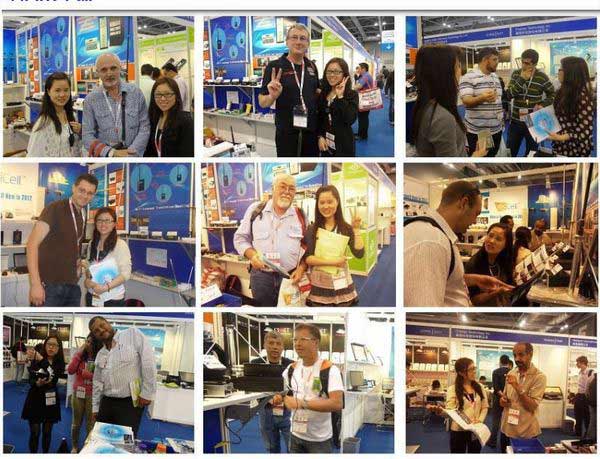 This is our participation in 2012 Global Sources Hong Kong Electronics Fair . Customers from all over the world finally have a chance to get together.
Where is Fmuser ?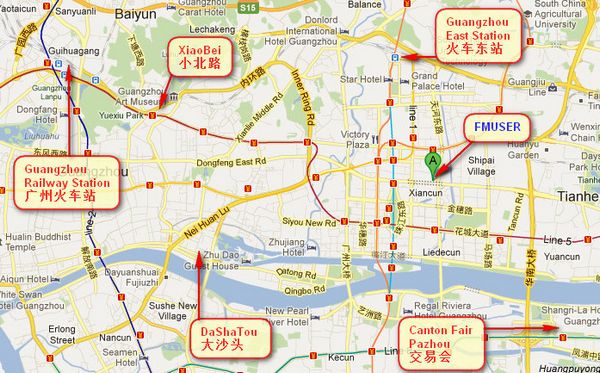 You can search this numbers " 23.127460034623816,113.33224654197693 " in google map , then you can find our fmuser office .
FMUSER Guangzhou office is in Tianhe District which is the center of the Canton . Very near to the Canton Fair , guangzhou railway station, xiaobei road and dashatou , only need 10 minutes if take TAXI . Welcome friends around the world to visit and negotiate .
Contact: Sky Blue
Cellphone: +8615915959450
WhatsApp: +8615915959450
Wechat: +8615915959450
E-mail: [email protected]
QQ: 727926717
Skype: sky198710021
Address: No.305 Room HuiLan Building No.273 Huanpu Road Guangzhou China Zip:510620

English: We accept all payments , such as PayPal, Credit Card, Western Union, Alipay, Money Bookers, T/T, LC, DP, DA, OA, Payoneer, If you have any question , please contact me [email protected] or WhatsApp +8615915959450
PayPal. www.paypal.com

We recommend you use Paypal to buy our items ,The Paypal is a secure way to buy on internet .

Every of our item list page bottom on top have a paypal logo to pay.

Credit Card.If you do not have paypal,but you have credit card,you also can click the Yellow PayPal button to pay with your credit card.

---------------------------------------------------------------------

But if you have not a credit card and not have a paypal account or difficult to got a paypal accout ,You can use the following:

Western Union.

www.westernunion.com

Pay by Western Union to me :

First name/Given name: Yingfeng
Last name/Surname/ Family name: Zhang
Full name: Yingfeng Zhang
Country: China
City: Guangzhou



---------------------------------------------------------------------

T/T .

Pay by

T/T (wire transfer/ Telegraphic Transfer/ Bank Transfer)

SWIFT BIC: BKCHHKHHXXX
Bank name: BANK OF CHINA (HONG KONG) LIMITED, HONG KONG
Bank Address: BANK OF CHINA TOWER, 1 GARDEN ROAD, CENTRAL, HONG KONG
BANK CODE: 012
Account Name : FMUSER INTERNATIONAL GROUP LIMITED
Account NO. : 012-676-2-007855-0

* It will be sent in 1-2 working days when payment clear.
* We will send it to your paypal address. If you want to change address, please send your correct address and phone number to my email [email protected]
* If the packages is below 2kg,we will be shipped via post airmail, it will take about 15-25days to your hand.
If the package is more than 2kg,we will ship via EMS , DHL , UPS, Fedex fast express delivery,it will take about 7~15days to your hand.
If the package more than 100kg , we will send via DHL or air freight. It will take about 3~7days to your hand.
All the packages are form China guangzhou.
* Package will be sent as a "gift" and declear as less as possible,buyer don't need to pay for "TAX".
* After ship, we will send you an E-mail and give you the tracking number.

For Warranty .
Contact US--->>Return the item to us--->>Receive and send another replace .
Name: Liu xiaoxia
Address: 305Fang HuiLanGe HuangPuDaDaoXi 273Hao TianHeQu Guangzhou China.
ZIP:510620
Phone: +8615915959450
Please return to this address and write your paypal address,name,problem on note: