Roland EDLROL R-09SD digital recording interviews card machine
Roland EDLROL R-09SD digital recording interviews card machine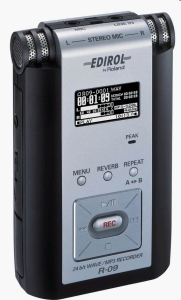 Japan Roland EDIROL R-09 high-quality digital interview recorder ( with SD card ): 24bit, uncompressed digital audio , USB2.0, WAVE/MP3 format through software to convert audio files X48 can be common file formats with audio workstations .
The latest 1.1 firmware new features are as follows :
SD card support SDHC format supports up to 2GB SD card above , which is the world's first to support such a large -capacity SD memory recorder
Faster file transfer using USB 2.0
Longer standby time
When the file name is displayed in alphabetical cycle
In the past year EDIROL R-1 and introduced the R-4 recorder , called "professional" level portable recorder. This year has launched a portable recorder hot : R-09. On the basis of the success of the R-1 , R-09 and adds more functionality desire --- 24-BIT and a fixed embedded microphone --- can be regarded as the most improved fashion , the most convenient .
24-bit/48Khz ( or 44. 1Khz) Recording
You can use an SD card ( 64 MB memory space )
Embedded high -quality built- in microphone recording
Microphone and line input ; USB Interface
Simple , intuitive display
Long battery life
The most lightweight body , the volume is half the R-1 's .
Over 320kbps MP3 playback and recording functions
Capture every detail of the sound :
R-09 appearance will make you feel wrong not on board in good taste , in fact , it is a professional high-quality recorder. You can capture the R-09 to 24Bit 44.1 or 48KHZ sampling frequency sound sources. You can record or sound (up to 320kbps) MP3 playback format . You can also record the time by R-09 's headphone jack to listen or imported via USB to your computer.
Built-in high quality microphone :
No need to purchase additional pickup device , R-09 will be able to complete the recording, which should benefit from R-09 built-in stereo microphone, and has a dedicated input level control , mono / stereo selector , low-frequency filtering and gain. Just press the record , you can start your voice trip. If you need an external microphone , R-09 is also equipped for your 1/ 4 mic input.
Excellent results :
Compared with the older R-1, R-09 even better , R-09 has excellent reverb when you need to play WAV or MP3 audio , you can R-09 built-in reverb get more Atsumi sound.
Not just for recorded music :
Whether and other live concerts, recitals or rehearsals , R-09 can do the job . Like an automatic drawing board , like every sound detail under it will faithfully record the scene , rather than make you miss . The application is not limited to music , this is the R-09 even better . Students can use it to record programs or lectures, reporters can interview other abandoned equipment and switch R-09 on-site interviews. Whenever and wherever there is a motive as long as you want to record sound , R-09 will faithfully record your inspiration .