Total:3469 USD
Item:3469 USD Shipping:0 USD
FMUSER 1000W FM Transmitter with RDS Encoder for RDS Intelligent Addressable Broadcasting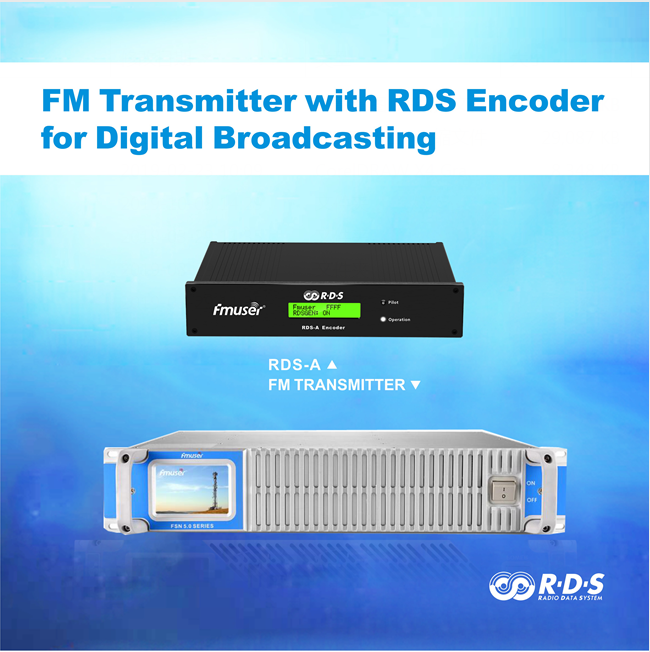 OVERVIEW:
FMUSER hereby presents newly innovated FSN-1000T 1KW FM transmitter with touch screen to all FM broadcast fans with due respect. Exclusively from other 1KW transmitter in the market, FMUSER 1000W radio FM transmitter features by its human-friendly touch screen operation interface, highly stable and reliable performance and near CD quality stereo sound effect, which make it a remarkable improvement in the whole market, and leads to its high popularity in using for the most of FM radio stations.

This 1000W FM broadcast transmitter is designed in a compact 19 inch 2U chassis by integrating all modules inside, small in size and easy in operation and maintenance. It adopts the most advanced RF transistor of BL188 OR MRFE6VP61K25H, which ensures a high working efficiency of 72%, the power loss is reduced to the minimum value ever.

The DSP(Digital Sound Processing) technology makes the FSN-1000T 1000W FM transmitter an enjoyable sound broadcasting device for all music lovers, you'll no longer be bothered by the noises or distortions.


As quality assurance, FMUSER Provides 5 YEAR warranty for this FMUSER FU-1000T 1KW Professional FM transmitter. , you'll have no worries to use it for the radio station.
FREQUENTLY APPLICABLE USES:
1). Community Radio stations
2). LPFM radio stations
3). City radio stations
4). Christian Church radio stations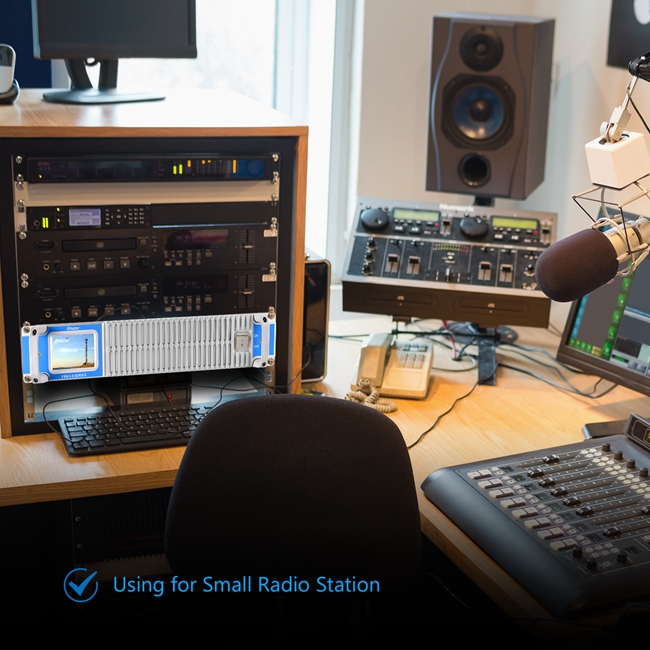 OUTSTANDING FEATURES:

1) OVERHEAT PROTECTION:
The transmitter will switch to auto-protection with alarm message and a beep sound once the working temperature gets higher than normal range.
2) OVER SWR PROTECTION:

SWR is the indication of antenna system connection with transmitter. Once the connection is bad and causing a high SWR Value, the transmitter will switch to automatic protection mode by showing alarm message on the screen with a beeping sound meanwhile.
3) FAN ERROR ALARM

When the fan stopped running, there will be alarming message showing on the screen like the following:

4) FREQUENCY AUTO MATCHING:
The 1kw FM transmitter auto scans the best matching frequency on antenna to maximize the broadcasting efficiency at minimum SWR ratio, this ensures the best performance from both the transmitter and antenna.
5) MODULATION ADJUSTABLE:

When audio mixers are connected with the 1kw FM transmitter through the XLR Balanced audio input interface, the transmitter will provide plenty of options for the modulation to best match with the mixer.
6) ONE TOUCH OPERATION:

This FSN-1000T 1kw FM transmitter is designed with a precisely sensitive touch screen in replace of the control buttons on previous transmitters. With all information displayed clearly on the screen, users can control and configure all parameters very easily.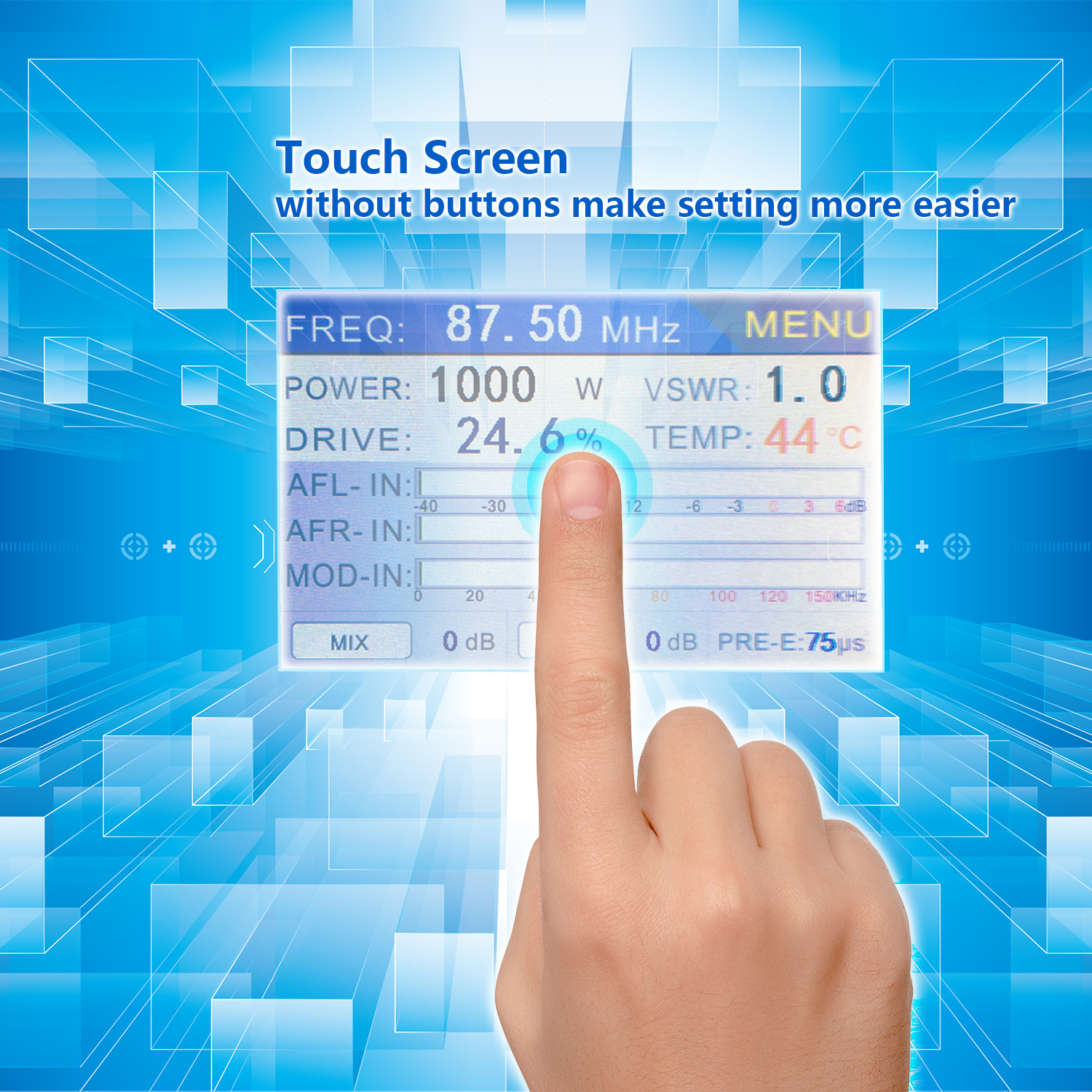 7) FLEXIBLE AUDIO OPTIONS
The pre-emphasis of 1kw FM transmitter are flexible to choose among 0US / 50US/ 75US, users can choose the best match mode according to their own needs.
8) ADJUSTABLE POWER OUTPUT
The RF out of this 1kw FM transmitter is continuously adjustable from 0-1000 watt at the stepping of 0.1watt, which means you can tune it to 1w, 1.1w, 1.2w...50w...100w...500w...1000w, with just one transmitter you'll get multiple modes of outputs and easy to tune as per your needs
9) LONG COVERING RADIUS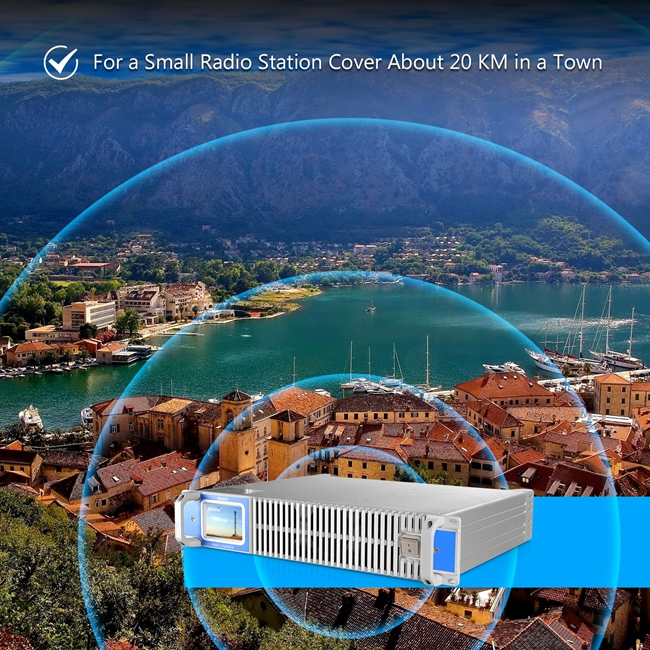 PANEL DESCRIPTION: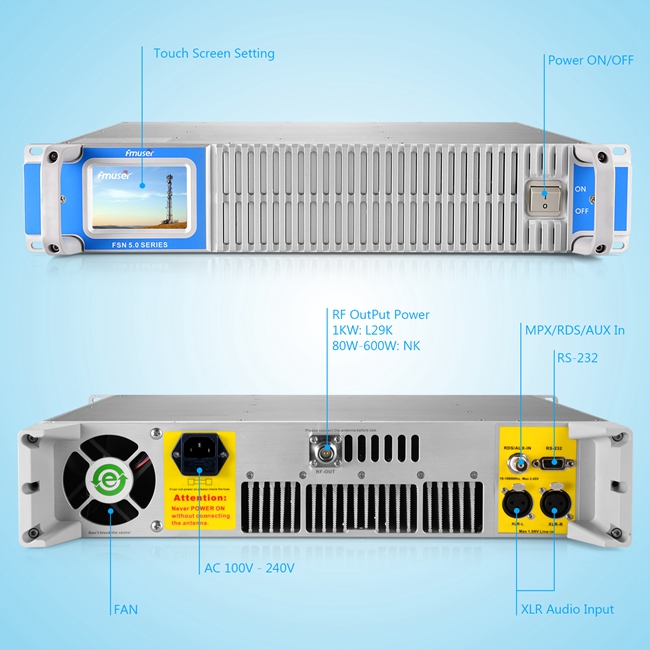 TECHNICAL SPECIFICATION:


RF Part:
Frequency: 87.5-108MHz,
Frequency step value: 10KHz
Modulation: FM, peak deviation ± 75KHz
Frequency stability: <± 100Hz
Frequency stabilization method: PLL frequency synthesizer
RF output power: 0~1000 watts ± 0.5dB
Residual wave: <- 70dB
Higher harmonics: <- 65dB
Parasitic AM: <- 50dB
RF output impedance: 50Ω

RF output connector: L29 female

Audio Part:
Audio input connector: XLR female
AUX input connector: BNC female
Pre-emphasis: 0us, 50us, 75us (user setting)
S / N ratio mono:> 70 dB (20 to 20KHz)
S / N ratio stereo:> 65 dB (20 to 15KHz)
Stereo resolution: -50dB
Audio frequency response: 30 ~ 15000Hz
Audio distortion: <0.3%
Audio level gain: -12dB ~ 12dB step 3dB

Audio input: -19dB ~ 5dB

General Features:
Power supply voltage range: 110V ~ 260V
Operating temperature range: -10 to 45 ℃
Work mode: continuous work
Cooling method: air cooling
Cooling efficiency: <95%
Work Altitude: <4500M
Power consumption: 1500VA
Dimensions: 483 x 320 x 88 mm without handles and protrusions, 19 "2U standard rack.
Weight: 12Kg
FMUSER RDS-A RDS Encoder for
FM Transmitter with MPX SCA Input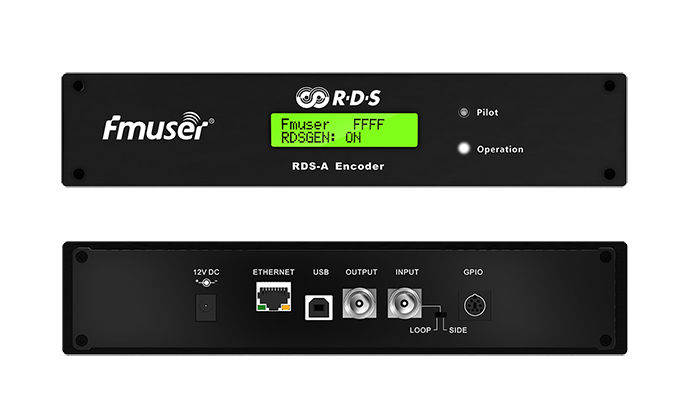 FMUSER RDS-A Encoder is well suited for most regional, local, RSL, LPFM and other medium- and small-coverage radio stations which use Ethernet for dynamic RDS data distribution. Built-in Ethernet controller supports multiple TCP/UDP ports, internet functions and remote monitoring .
FMUSER RDS-A Encoder have Fully DSP concept and effective design ensures high reliability, excellent signal characteristics and gives the user many advanced features while maintaining low acquisition costs.
l
Fully dynamic FM broadcast RDS encoder with up to four independent communication ports
l
USB connectivity for local settings and maintenance purposes
l
Ethernet connectivity for linking with broadcast automation system
l
Control interface based on ASCII commands and UECP protocol
l
Supports internet functions and remote monitoring
l
Text features include dynamic PS, parsing, scrolling, tagging, fixed messages, scheduling and HTTP reading
l
Excellent compatibility with broadcast automation systems
l
Control software includes powerful Windows GUI application
l
Supports control from external PHP/ASP scripts
l
Excellent spectral purity, direct digital RDS signal synthesis; compliant with EN 50067 / EN 62106
l
Two switchable program sets (with optional DSN and PSN setting)
l
External TA and Program set switch
l
Bypass relay, high reliability
l
Switchable MPX loopthrough mode (Loop/Side)
l
Internal real-time clock incl. backup battery
l
No special 19 kHz input needed - pilot tone internally recovered from MPX signal using digital PLL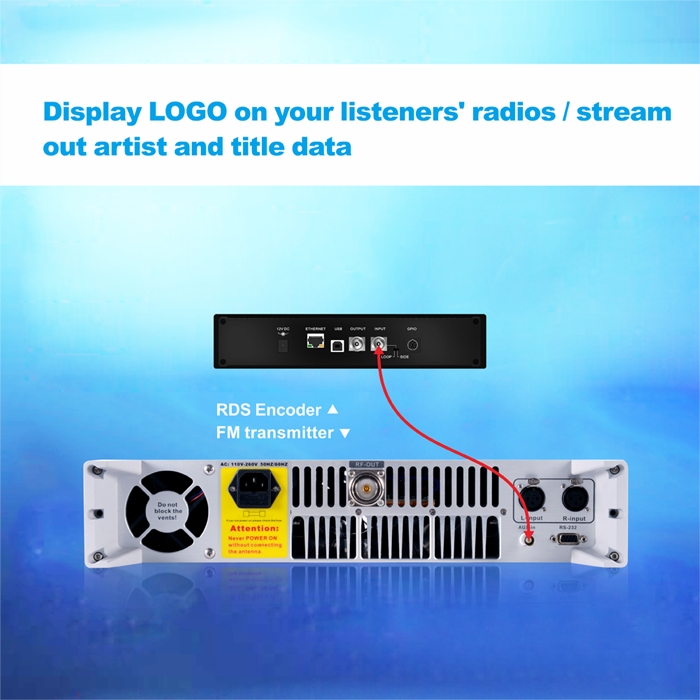 1)
Confirm whether the current transmitter already has a 57khz input interface.
2)
Purchase FMUSER's RDS-A encoder to insert your digital signal into your radio broadcast.
3)
Run the Rds software on your computer and insert your radio station logo, traffic information…
4)
Use a RDS radio to check the digital information you provide.
1pc FMUSER 1000W FM Transmitter
Total:3469 USD
Item:3469 USD Shipping:0 USD

How far(long) the transmitter cover?
The transmission range depends on many factors. The true distance is based on the antenna installing height , antenna gain, using environment like building and other obstructions , sensitivity of the receiver, antenna of the receiver . Installing antenna more high and using in the countryside , the distance will much more far.
EXAMPLE 5W FM Transmitter use in the city and hometown:
I have a USA customer use 5W fm transmitter with GP antenna in his hometown ,and he test it with a car, it cover 10km(6.21mile).
I test the 5W fm transmitter with GP antenna in my hometown ,it cover about 2km(1.24mile).
I test the 5W fm transmitter with GP antenna in Guangzhou city ,it cover about only 300meter(984ft).
Below are the approximate range of different power FM Transmitters. ( The range is diameter )
0.1W ~ 5W FM Transmitter :100M ~1KM
5W ~15W FM Ttransmitter : 1KM ~ 3KM
15W ~ 80W FM Transmitter : 3KM ~10KM
80W ~500W FM Transmitter : 10KM ~30KM
500W ~1000W FM Transmitter : 30KM ~ 50KM
1KW ~ 2KW FM Transmitter : 50KM ~100KM
2KW ~5KW FM Transmitter : 100KM ~150KM
5KW ~10KW FM Transmitter : 150KM ~200KM
How to contact us for the transmitter?
Call me +8615915959450 OR
Email me [email protected]
1.How far you want to cover in diameter ?
2.How tall of you tower ?
3.Where are you from ?
And we will give you more professional advice.

About Us
FMUSER.ORG is a system integration company focusing on RF wireless transmission / studio video audio equipment / streaming and data processing .We are providing everything from advice and consultancy through rack integration to installation, commissioning and training.

We offer FM Transmitter, Analog TV Transmitter, Digital TV transmitter, VHF UHF Transmitter, Antennas, Coaxial Cable Connectors, STL, On Air Processing, Broadcast Products for the Studio, RF Signal Monitoring, RDS Encoders, Audio Processors and Remote Site Control Units, IPTV Products, Video / Audio Encoder / Decoder, designed to meet the needs of both large international broadcast networks and small private stations alike.

Our solution has FM Radio Station / Analog TV Station / Digital TV Station / Audio Video Studio Equipment / Studio Transmitter Link / Transmitter Telemetry System / Hotel TV System / IPTV Live Broadcasting / Streaming Live Broadcast / Video Conference / CATV Broadcasting system.

We are using advanced technology products for all the systems, because we know the high reliability and high performance are so important for the system and solution . At the same time we also have to make sure our products system with a very reasonable price.

We have customers of public and commercial broadcasters, telecom operators and regulation authorities , and we also offer solution and products to many hundreds of smaller, local and community broadcasters .

FMUSER.ORG has been exporting more than 13 years and have clients all over the world. With 13 years experience in this field ,we have a professional team to solve customer's all kinds of problems. We dedicated in supplying the extremely reasonable pricing of professional products & services. Contact email : [email protected]
Our Factory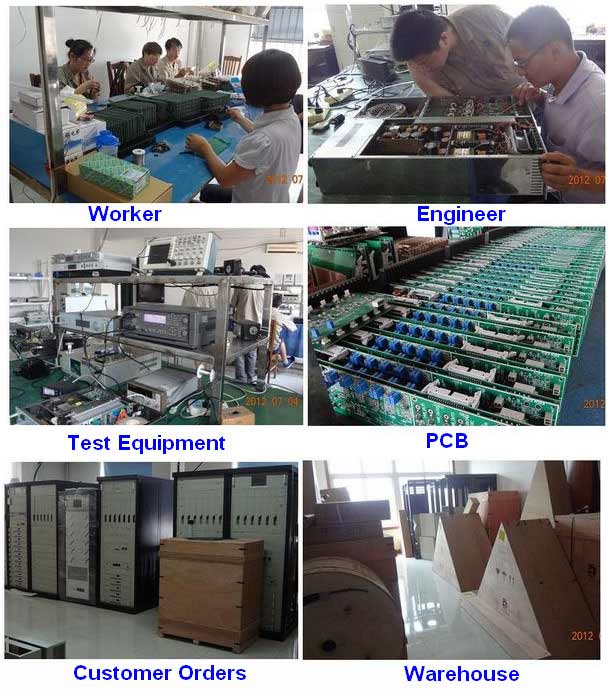 We have modernization of the factory . You are welcome to visit our factory when you come to China.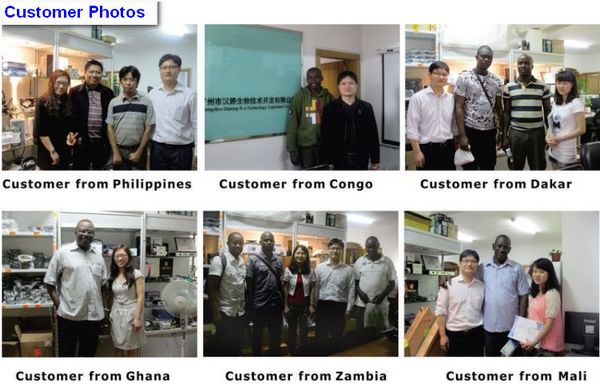 At present , there are already 1095 customers around the world visited our Guangzhou Tianhe office . If you come to China , you are welcome to visit us .
At Fair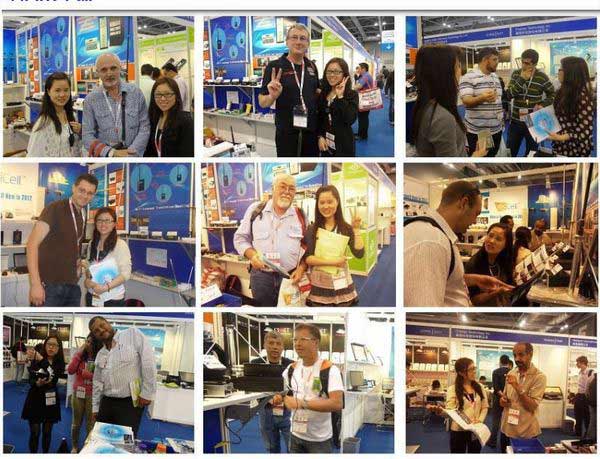 This is our participation in 2012 Global Sources Hong Kong Electronics Fair . Customers from all over the world finally have a chance to get together.
Where is Fmuser ?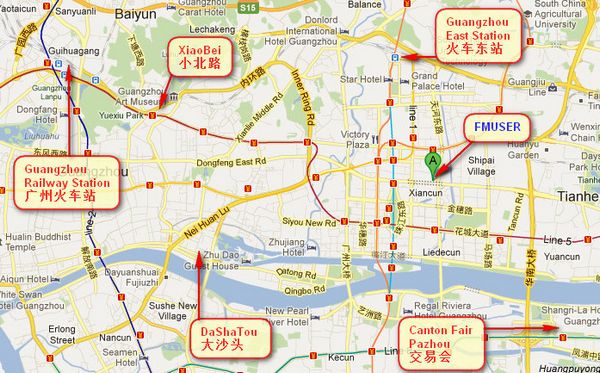 You can search this numbers " 23.127460034623816,113.33224654197693 " in google map , then you can find our fmuser office .
FMUSER Guangzhou office is in Tianhe District which is the center of the Canton . Very near to the Canton Fair , guangzhou railway station, xiaobei road and dashatou , only need 10 minutes if take TAXI . Welcome friends around the world to visit and negotiate .
Contact: Sky Blue
Cellphone: +8615915959450
WhatsApp: +8615915959450
Wechat: +8615915959450
E-mail: [email protected]
QQ: 727926717
Skype: sky198710021
Address: No.305 Room HuiLan Building No.273 Huanpu Road Guangzhou China Zip:510620

English: We accept all payments , such as PayPal, Credit Card, Western Union, Alipay, Money Bookers, T/T, LC, DP, DA, OA, Payoneer, If you have any question , please contact me [email protected] or WhatsApp +8615915959450
PayPal. www.paypal.com

We recommend you use Paypal to buy our items ,The Paypal is a secure way to buy on internet .

Every of our item list page bottom on top have a paypal logo to pay.

Credit Card.If you do not have paypal,but you have credit card,you also can click the Yellow PayPal button to pay with your credit card.

---------------------------------------------------------------------

But if you have not a credit card and not have a paypal account or difficult to got a paypal accout ,You can use the following:

Western Union.

www.westernunion.com

Pay by Western Union to me :

First name/Given name: Yingfeng
Last name/Surname/ Family name: Zhang
Full name: Yingfeng Zhang
Country: China
City: Guangzhou



---------------------------------------------------------------------

T/T .

Pay by

T/T (wire transfer/ Telegraphic Transfer/ Bank Transfer)

SWIFT BIC: BKCHHKHHXXX
Bank name: BANK OF CHINA (HONG KONG) LIMITED, HONG KONG
Bank Address: BANK OF CHINA TOWER, 1 GARDEN ROAD, CENTRAL, HONG KONG
BANK CODE: 012
Account Name : FMUSER INTERNATIONAL GROUP LIMITED
Account NO. : 012-676-2-007855-0

* It will be sent in 1-2 working days when payment clear.
* We will send it to your paypal address. If you want to change address, please send your correct address and phone number to my email [email protected]
* If the packages is below 2kg,we will be shipped via post airmail, it will take about 15-25days to your hand.
If the package is more than 2kg,we will ship via EMS , DHL , UPS, Fedex fast express delivery,it will take about 7~15days to your hand.
If the package more than 100kg , we will send via DHL or air freight. It will take about 3~7days to your hand.
All the packages are form China guangzhou.
* Package will be sent as a "gift" and declear as less as possible,buyer don't need to pay for "TAX".
* After ship, we will send you an E-mail and give you the tracking number.

For Warranty .
Contact US--->>Return the item to us--->>Receive and send another replace .
Name: Liu xiaoxia
Address: 305Fang HuiLanGe HuangPuDaDaoXi 273Hao TianHeQu Guangzhou China.
ZIP:510620
Phone: +8615915959450
Please return to this address and write your paypal address,name,problem on note: