HAVE FUN
DESIGN YOUR OWN J POLE
FOR ANY BAND!
(Try it with aluminum too!)
Either way....TRY IT!
Design your J Pole for hf,
2 meters, 220, 440 and up!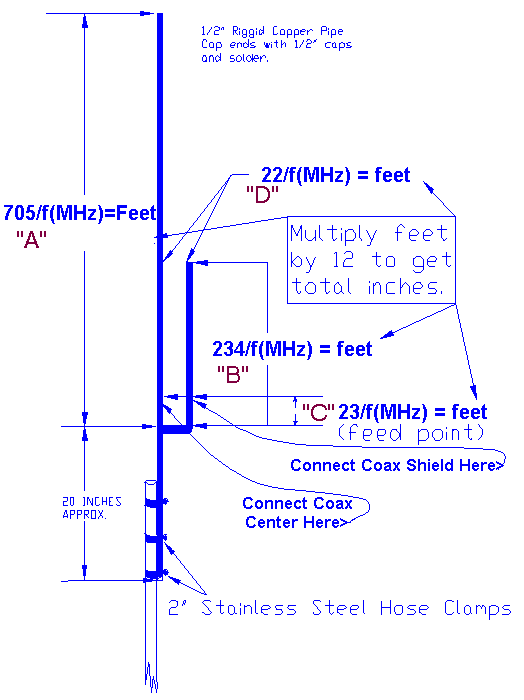 J-Pole Antenna Design
SAVE TIME BY USING THE CALCULATOR BELOW.







On most of the J Pole designs out there, a choke should be used as close to the feedpoint of the antenna as possible to help prevent rf on the feedline and creating difficulty with SWR readings. For 2 meters, the coil is 4 turns of coax at 5 inches in diameter. You should get good results with the choke within 3 or 4 inches of the feedpoint on 2 meters.
Hint:
Use the last part of your feedline as the choke before attaching to the feedpoint!

Hints from builders:

"Iv'e built my j-poles out of 10ft sticks of 1/2" emt conduit. Drill a 1/4" hole at the place where the "J" goes. Make the "j"out of 1/4" soft copper, Solder it in place thru the hole and add the cable. Cost about $6 using new parts.
If you need a "super" j, use a piece of 3/4" pvc as the insulator and add the stub and another 38 or so inches of conduit. still really cheap"........
Dave, WB5HDS
Don't want to build but rather buy? Get a 2m/440 dual band J Pole from Amateur Radio Supply...click the picture below for more info!

Click picture for more info!
Made in the U.S.A. from solid aluminum! Very heavy duty and built to last!
Our other product: