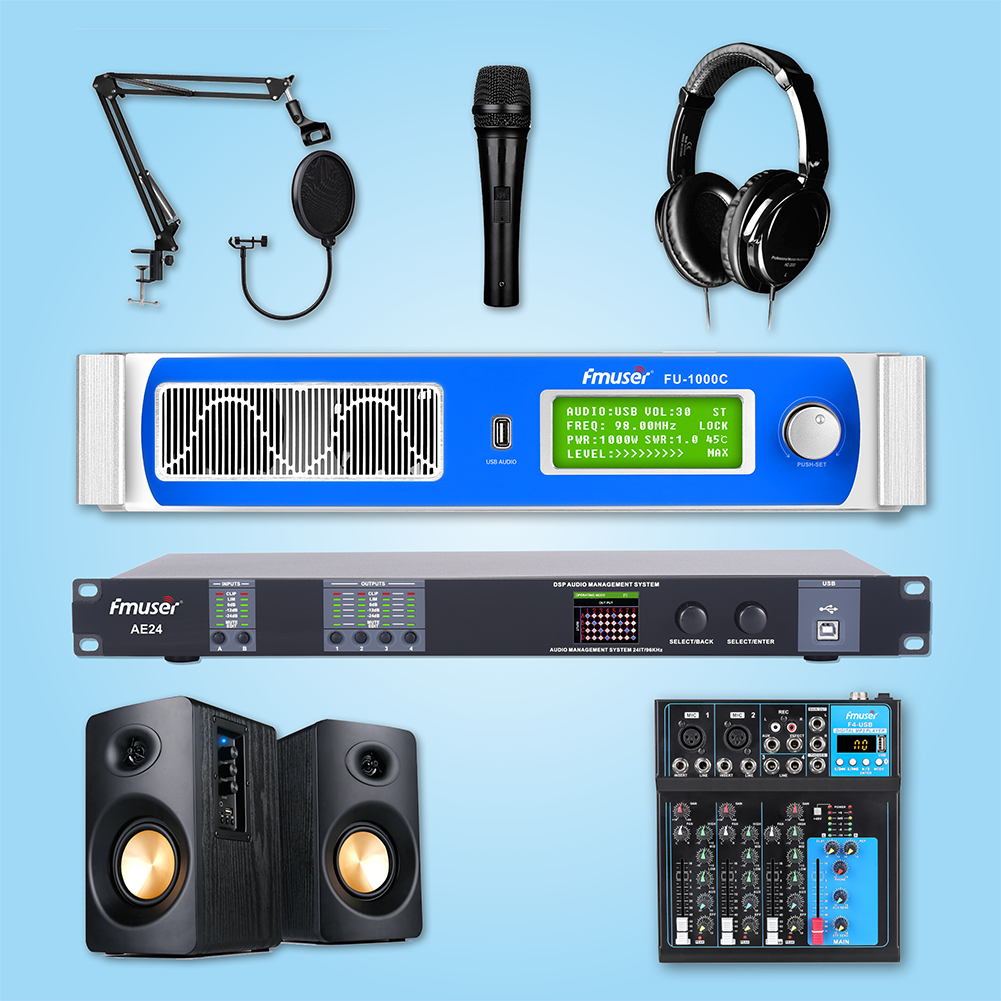 FMUSER BS-1M
Professional FM Radio Station Equipment Package
1. Overview

-FMUSER BS-1M-
Everything you need is in the FMUSER studio setup. Completely state-of-the-art, cost-effective premium product including all the radio equipment you need for online broadcasting.
We have mixers, microphones, audio processors, monitor headphones, etc. Make sure you have a great show in every moment.
1.1 This is our job
FMUSER Broadcast is a professional radio station equipment supplier from China. We focus on creating unforgettable storytelling environments for news, education, sports, e-sports, entertainment life, multi-channel, and corporate video conferencing and communications.
1.2 This is a Professional Radio Station EquipmentPackage
Whether you're a novice, seasoned professional, publisher or networker, FMUSER can help you get noticed.
We are passionate advocates for your audience and focus on getting your audience to engage with your brand. As a creative and versatile group of viewers, questioners, and collaborative problem solvers, we strive to discover meaningful differences in each project. The FMUSER team translates these distinctions into purposeful landscape masterpieces.
1.3 Our own team
FMUSER has its own team to provide professional and top-level solutions among the continuously developing multi-channel suppliers, and provide you with professional pre-sales and after-sales services and high-quality products.
2. Features

2.1 FMUSER FU-1000C 1000W FM Transmitter + 2KW DipoleAntenna + 30M Coaxial Cable
Powerful broadcast hardware for your radio station at an affordable price. This is also the first choice for most mid-sized FM radio operators. As the best-selling 1000W FM radio broadcast transmitter, if you are a station manager, a reliable FU-1000C FM broadcast transmitter can help you better manage your broadcast affairs and create unlimited business opportunities for you.
2.2 FMUSER BS-1M-1 Professional Broadcast Studio Condenser Microphone
FMUSER BS-1M-1 broadcast microphone adopts cardioid directional sound test, which can isolate unnecessary ambient noise, and the effect of eliminating echo is better than omnidirectional. The sound reproduction is natural and clear, providing high-quality broadcast effects. The highly compatible design perfectly matches the computer sound card and mobile phone connection. The built-in filter windshield effectively eliminates unwanted noise such as breathing or wind noise. Powered by 1.5V AAA battery, no 48V phantom power required, up to 360 hours of working time. Fully meet the needs of long-term broadcast work.
2.3 FMUSER BS-1M-2 Microphones Boom Arm
Microphone boom that fits most microphones and shock mounts. Easy to install anywhere, you can freely fix the base on tables up to 4.5cm thick. Durable: This microphone stand is made of high-quality steel, which is strong and durable, and can effectively reduce some of the noise caused by the environment and various collisions, which is very important during broadcasting, because this reduces the bad experience for the audience. Highly flexible boom, the boom's boom design allows you to freely adjust the microphone 360 degrees in all directions.
2.4 FMUSER BS-1M-3 Professional Monitor Headphone
FMUSER BS-1M-3 professional monitoring headphones are specially designed for the studio. The fully enclosed cavity structure effectively blocks external noise. The 50mm neodymium magnet dynamic drive unit is used to provide thick bass, clear midrange and extended treble, which can be flexibly applied to various high-demand studio needs. Professional broadcast monitor headphones are ergonomically paired with highly soft, high-protein leather materials for optimal wearing comfort. The ear shells can be designed with a swing range of 25° left and right to meet the wearing of people with different face shapes. Retractable head bow design, the length of one side can be retracted up to 35mm, which can meet the wearing of different head shapes.
2.5 FMUSER BS-1M-4 Professional Monitor Speakers
FMUSER BS-1M-4 is ideal for radio stations. It adopts Privare model gold foil disc integrated structure diaphragm. The inherent structural advantages bring stiffness and elasticity to soft sound, as well as high dynamic and high resolution band. The sound of the high-quality monitoring is broadcast-level standard. The 1.5-inch professional tweeter and the 4-inch subwoofer gold foil disc restore high-quality sound and monitor all the sound details you need. Support high and low audio and volume adjustment, wireless connection, USB and TF and AUX jack music input. With the use of the audio processor, it can accurately monitor and optimize your sound effects, and provide high-quality guarantee for your broadcast sound quality.
2.6 FMUSER BS-1M-5 Audio Processor
FMUSER BS-1M-5 (AE24) audio processor adopts advanced DSP technology from high-fidelity 24bit 48kHz delta-sigma A/D converter with 128x oversampling digital processingincluding gain\invert\parametric EQ\slope filter \Delay\Cross\Compression\Limiting and signal routing functions All processing is done by a pair of 120MHz high performance DSP processor D/A converters, using 24 bit delta-sigma converters and 128x oversampling gain audio processors, high, Mid and low frequency filters, compressed audio processors, signal distribution, delays. FMUSER BS-1M-5 (AE24) audio processor in order to stabilize the current, stabilize the sound quality of the speaker, and at the same time make the sound field positioning in the broadcast clear, the sense of hierarchy is clear, and the vocals become clear and clean, with high-definition LED display and panel buttons, very easy to operate and view the settings, and you can also use the USB interface to connect the computer to adjust the settings. Supports 2 XLR inputs and 4 XLR outputs, the left and right channel inputs of the mixer are connected to the audio processor output to the monitor speakers and the transmitter.
2.7FMUSER BS-1M-6 Mixing Console
A mixer is an essential piece of equipment in a studio. It has multiple inputs, controls the sound signal of each channel, can perform sound effect processing independently, and can also mix various sounds, and the mixing ratio is adjustable; it has a variety of outputs (including left and right stereo output, editing output, mixed mono output, monitor output, recording output, and various auxiliary outputs, etc.). FMUSER BS-1M-6 is a small mixing console with 4 input channels, and each channel has adjustment, gain, and reverb effects for the high, middle and low frequency bands. 2 of them are mic XLR inputs or line inputs 3 and 4 in stereo. They are perfect for managing up to 3 live guests on your show.
3.Application
1. For broadcast studios and podcasts
2. Broadcasting for live news, special interviews, church preaching, entertainment programs, etc.
(1) 1x FMUSER FU-1000C 1000W FM Transmitter
(2) 1x 2KW DipoleAntenna
(3) 1x 30M Coaxial Cable
(4) 1x FMUSER BS-1M-1 Professional Broadcast Microphone
(5) 1x FMUSER BS-1M-2 Microphones Boom Arm
(6) 1x FMUSER BS-1M-3 Professional Monitor Headphone
(7) 1x FMUSER BS-1M-4 Professional Monitor Speakers
(8) 1x FMUSER BS-1M-5 Audio Processor
(9) 1x FMUSER BS-1M-6 Mixing Console
(10) 7x FMUSER Audio cable

How far(long) the transmitter cover?
The transmission range depends on many factors. The true distance is based on the antenna installing height , antenna gain, using environment like building and other obstructions , sensitivity of the receiver, antenna of the receiver . Installing antenna more high and using in the countryside , the distance will much more far.
EXAMPLE 5W FM Transmitter use in the city and hometown:
I have a USA customer use 5W fm transmitter with GP antenna in his hometown ,and he test it with a car, it cover 10km(6.21mile).
I test the 5W fm transmitter with GP antenna in my hometown ,it cover about 2km(1.24mile).
I test the 5W fm transmitter with GP antenna in Guangzhou city ,it cover about only 300meter(984ft).
Below are the approximate range of different power FM Transmitters. ( The range is diameter )
0.1W ~ 5W FM Transmitter :100M ~1KM
5W ~15W FM Ttransmitter : 1KM ~ 3KM
15W ~ 80W FM Transmitter : 3KM ~10KM
80W ~500W FM Transmitter : 10KM ~30KM
500W ~1000W FM Transmitter : 30KM ~ 50KM
1KW ~ 2KW FM Transmitter : 50KM ~100KM
2KW ~5KW FM Transmitter : 100KM ~150KM
5KW ~10KW FM Transmitter : 150KM ~200KM
How to contact us for the transmitter?
Call me +8618078869184 OR
Email me [email protected]
1.How far you want to cover in diameter ?
2.How tall of you tower ?
3.Where are you from ?
And we will give you more professional advice.

About Us
FMUSER.ORG is a system integration company focusing on RF wireless transmission / studio video audio equipment / streaming and data processing .We are providing everything from advice and consultancy through rack integration to installation, commissioning and training.

We offer FM Transmitter, Analog TV Transmitter, Digital TV transmitter, VHF UHF Transmitter, Antennas, Coaxial Cable Connectors, STL, On Air Processing, Broadcast Products for the Studio, RF Signal Monitoring, RDS Encoders, Audio Processors and Remote Site Control Units, IPTV Products, Video / Audio Encoder / Decoder, designed to meet the needs of both large international broadcast networks and small private stations alike.

Our solution has FM Radio Station / Analog TV Station / Digital TV Station / Audio Video Studio Equipment / Studio Transmitter Link / Transmitter Telemetry System / Hotel TV System / IPTV Live Broadcasting / Streaming Live Broadcast / Video Conference / CATV Broadcasting system.

We are using advanced technology products for all the systems, because we know the high reliability and high performance are so important for the system and solution . At the same time we also have to make sure our products system with a very reasonable price.

We have customers of public and commercial broadcasters, telecom operators and regulation authorities , and we also offer solution and products to many hundreds of smaller, local and community broadcasters .

FMUSER.ORG has been exporting more than 15 years and have clients all over the world. With 13 years experience in this field ,we have a professional team to solve customer's all kinds of problems. We dedicated in supplying the extremely reasonable pricing of professional products & services. Contact email : [email protected]
Our Factory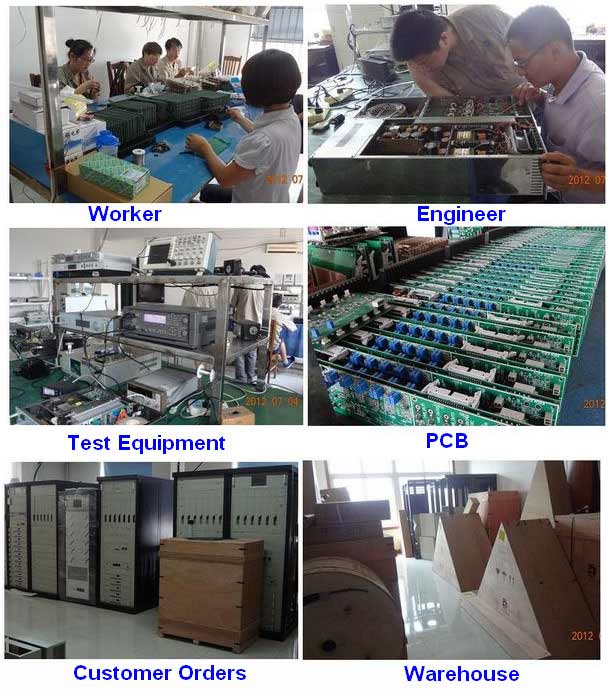 We have modernization of the factory . You are welcome to visit our factory when you come to China.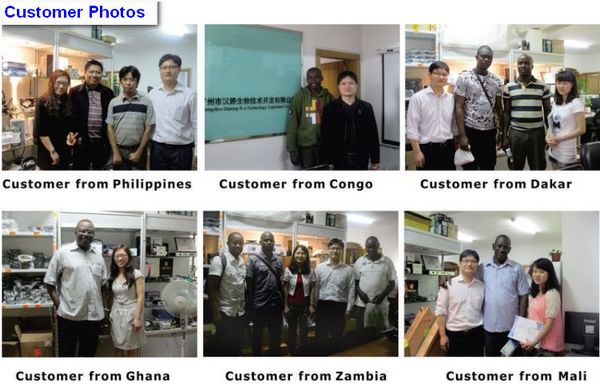 At present , there are already 1095 customers around the world visited our Guangzhou Tianhe office . If you come to China , you are welcome to visit us .
At Fair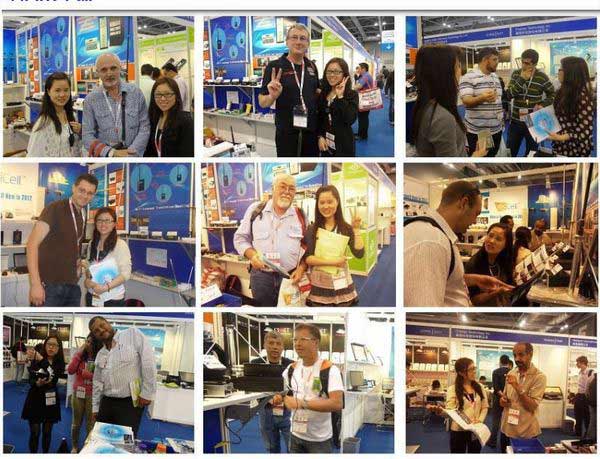 This is our participation in 2012 Global Sources Hong Kong Electronics Fair . Customers from all over the world finally have a chance to get together.
Where is Fmuser ?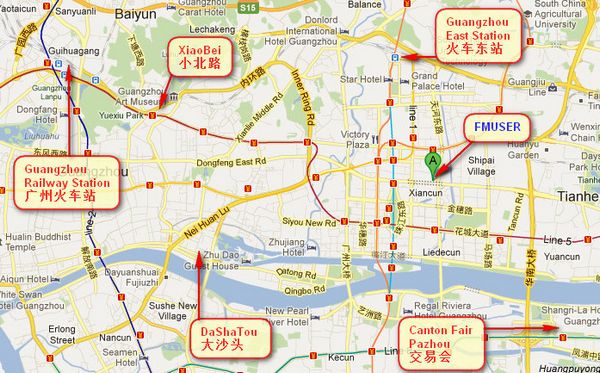 You can search this numbers " 23.127460034623816,113.33224654197693 " in google map , then you can find our fmuser office .
FMUSER Guangzhou office is in Tianhe District which is the center of the Canton . Very near to the Canton Fair , guangzhou railway station, xiaobei road and dashatou , only need 10 minutes if take TAXI . Welcome friends around the world to visit and negotiate .
Contact: Sky Blue
Cellphone: +8618078869184
WhatsApp: +8618078869184
Wechat: +8618078869184
E-mail: [email protected]
QQ: 727926717
Skype: sky198710021
Address: No.305 Room HuiLan Building No.273 Huanpu Road Guangzhou China Zip:510620

English: We accept all payments , such as PayPal, Credit Card, Western Union, Alipay, Money Bookers, T/T, LC, DP, DA, OA, Payoneer, If you have any question , please contact me [email protected] or WhatsApp +8618078869184
PayPal. www.paypal.com

We recommend you use Paypal to buy our items ,The Paypal is a secure way to buy on internet .

Every of our item list page bottom on top have a paypal logo to pay.

Credit Card.If you do not have paypal,but you have credit card,you also can click the Yellow PayPal button to pay with your credit card.

---------------------------------------------------------------------

But if you have not a credit card and not have a paypal account or difficult to got a paypal accout ,You can use the following:

Western Union.

www.westernunion.com

Pay by Western Union to me :

First name/Given name: Yingfeng
Last name/Surname/ Family name: Zhang
Full name: Yingfeng Zhang
Country: China
City: Guangzhou



---------------------------------------------------------------------

T/T .

Pay by

T/T (wire transfer/ Telegraphic Transfer/ Bank Transfer)

First BANK INFORMATION (COMPANY ACCOUNT):

SWIFT BIC: BKCHHKHHXXX
Bank name: BANK OF CHINA (HONG KONG) LIMITED, HONG KONG
Bank Address: BANK OF CHINA TOWER, 1 GARDEN ROAD, CENTRAL, HONG KONG
BANK CODE: 012
Account Name : FMUSER INTERNATIONAL GROUP LIMITED
Account NO. : 012-676-2-007855-0

---------------------------------------------------------------------
Second BANK INFORMATION (COMPANY ACCOUNT):
Beneficiary: Fmuser International Group Inc
Account Number: 44050158090900000337
Beneficiary's Bank: China Construction Bank Guangdong Branch
SWIFT Code: PCBCCNBJGDX
Address: NO.553 Tianhe Road, Guangzhou, Guangdong,Tianhe District, China
**Note: When you transfer money to our bank account, please DO NOT write anything in the remark area, otherwise we won't be able to receive the payment due to government policy on international trade business.

* It will be sent in 1-2 working days when payment clear.
* We will send it to your paypal address. If you want to change address, please send your correct address and phone number to my email [email protected]
* If the packages is below 2kg,we will be shipped via post airmail, it will take about 15-25days to your hand.
If the package is more than 2kg,we will ship via EMS , DHL , UPS, Fedex fast express delivery,it will take about 7~15days to your hand.
If the package more than 100kg , we will send via DHL or air freight. It will take about 3~7days to your hand.
All the packages are form China guangzhou.
* Package will be sent as a "gift" and declear as less as possible,buyer don't need to pay for "TAX".
* After ship, we will send you an E-mail and give you the tracking number.

For Warranty .
Contact US--->>Return the item to us--->>Receive and send another replace .
Name: Liu xiaoxia
Address: 305Fang HuiLanGe HuangPuDaDaoXi 273Hao TianHeQu Guangzhou China.
ZIP:510620
Phone: +8618078869184
Please return to this address and write your paypal address,name,problem on note: