FMUSER 150W FM Transmitter with RDS Encoder for RDS Intelligent Addressable Broadcasting
Total:1299 USD
Item:1299 USD Shipping:0 USD
FMUSER 150W FM Transmitter with RDS Encoder
for RDS Intelligent Addressable Broadcasting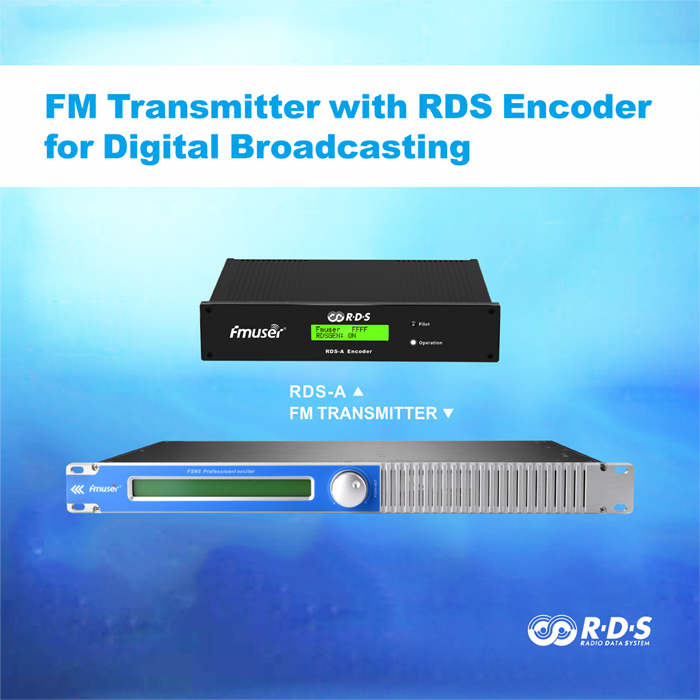 Introduction:
FSN-150B V5.0 FM radio transmitter is highly reliable, lighter in weight and easier to operate than previous version of transmitter. This transmitter adopts a simple-style design concept. It integrates the 50W FM stereo transmitter exciter, power amplifier, output filter and switching power supply in a 1U high 19-inch standard case, reducing the connecting cables between the components.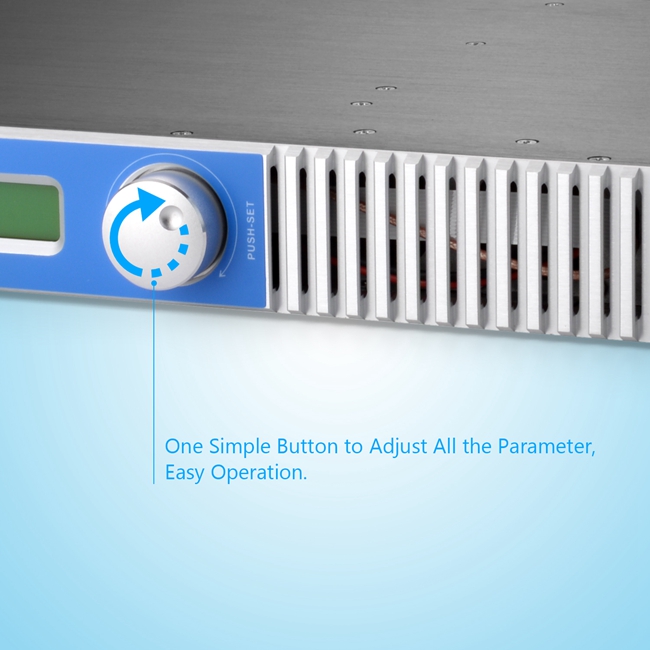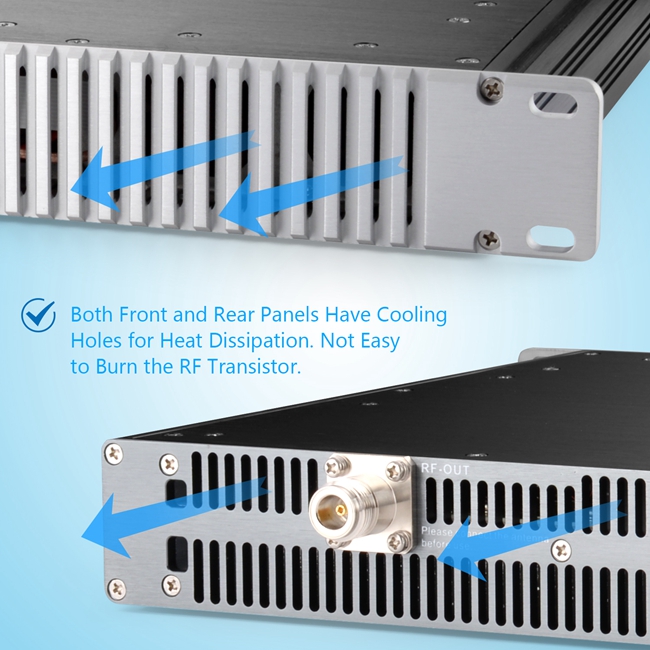 Technical Features:
• User-friendly digital LCD panel, using one rotary knob to control.
• The integrated LCD screen displays all the parametric including: transmitter frequency, stereo and mono, volume, amplifier tube temperature, audio signal UV meter, forward power, reflected power, modulation mode, pre-emphasis etc,.
• 1U 19-inch thickened all-aluminium case, strong and excellent heat dissipation.
• Precise PLL frequency generation system, to ensure that the frequency not drift away for more than10 years, with built-in high-quality stereo encoder.
• Outstanding power AGC balance control system, adjustable power output from 0 to 150 watts, and automatic gain power control to maintain output power within set range without drifting.
• Signal input supports XLR and RCA audio inputs, and also SCA and RDS signals using the BNC connector AUX.
• The RF amplifier uses LDMOS transistors to withstand even severe load mismatch exceeding the 65: 1 VSWR at a 5dB compression point.
Technical Parameters:
Frequency: 87.5-108MHz
Frequency step value: 10KHz
Modulation method: FM, peak deviation ± 75KHz
Frequency stability: <± 100Hz
Frequency stabilization method: PLL frequency synthesizer
RF output power: 0 ~ 150 W, step 0.1W, error ± 0.5dB
Harmonic suppression: ≤-72dB
Inband residual wave: ≤-72dB
Asynchronous AM SNR: ≥-80dB (no modulation) ≥-65dB (400Hz, 100% modulation)
Synchronous AM SNR: ≥-70dB (no modulation) ≥-60dB (400Hz, 100% modulation)
RF output impedance: 50Ω
RF Output Connector: N Female (L16)
Audio Input Connectors: XLR Female and RCA Female
AUX input connector: BNC female
Pre-emphasis: 0us, 50us, 75us (user setting)
Mono signal to noise ratio: ≥ 80 dB (20 to 20KHz)
Stereo signal-to-noise ratio: ≥ 80 dB (30 to 15KHz)
Stereo resolution: ≥ -55dB
Audio frequency response: 30 ~ 15000Hz ± 0.4dB
Audio distortion: <0.1%
Audio level gain: -15dB ~ 15dB step 0.5dB
Audio input: -15dB ~ 0dB
Power supply voltage range: 110V ~ 260V (global voltage)
Power consumption: <320VA
Operating temperature range: -10 to 45 ℃
Way of working: continuous work
Cooling method: forced air cooling
Cooling method: <95%
Altitude: <4500M
Dimensions: 484 x 260 x 44 mm without handles and protrusions, 19 "1U standard rack.
Weight: 4Kg
FMUSER RDS-A RDS Encoder for

FM Transmitter with MPX SCA Input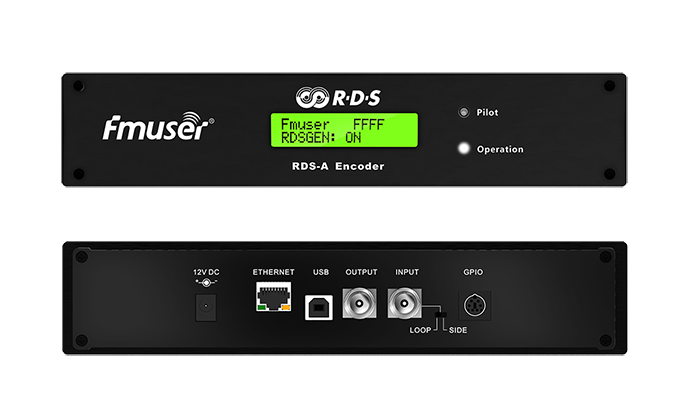 Overview

FMUSER RDS-A Encoder is well suited for most regional, local, RSL, LPFM and other medium- and small-coverage radio stations which use Ethernet for dynamic RDS data distribution. Built-in Ethernet controller supports multiple TCP/UDP ports, internet functions and remote monitoring .

FMUSER RDS-A Encoder have Fully DSP concept and effective design ensures high reliability, excellent signal characteristics and gives the user many advanced features while maintaining low acquisition costs.

Features

l Fully dynamic FM broadcast RDS encoder with up to four independent communication ports

l USB connectivity for local settings and maintenance purposes

l Ethernet connectivity for linking with broadcast automation system

l Control interface based on ASCII commands and UECP protocol

l Supports internet functions and remote monitoring

l Text features include dynamic PS, parsing, scrolling, tagging, fixed messages, scheduling and HTTP reading

l Excellent compatibility with broadcast automation systems

l Control software includes powerful Windows GUI application

l Supports control from external PHP/ASP scripts

l Easy and fast set-up

l Excellent spectral purity, direct digital RDS signal synthesis; compliant with EN 50067 / EN 62106

l Two switchable program sets (with optional DSN and PSN setting)

l External TA and Program set switch

l Bypass relay, high reliability

l Switchable MPX loopthrough mode (Loop/Side)

l Internal real-time clock incl. backup battery

l No special 19 kHz input needed - pilot tone internally recovered from MPX signal using digital PLL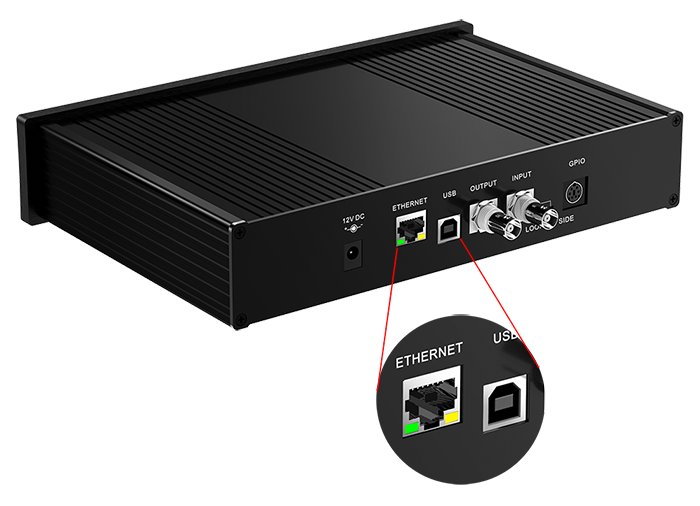 Frequency Question (FAQ)

1. What is Radio broadcast data system(RDS)

Radio Data System (RDS) is a standard for helping people insert some data information in a FM radio broadcasts station.

RDS transmitted including time, station identification and program information.

The standard began as a project of the European Broadcasting Union (EBU).

2. Why you need to build fm radio station with rds?

RDS provides a digital channel for ordinary FM radio stations, allowing the radio to provide users with more features, including the following illustrations:

The most important features is AF, TA, TP, it help FM radio station do more…

a) RDS Traffic Announcement (TA) :

The severing of the increased busy traffic, it is now interested in various countries in Africa to insert RDS signals when constructing a transmitting station, so as to realize the most economical broadcast of some traffic information by means of coverage of FM signals.

b) Traffic Program (TP):

With the TA and TP functions of RDS, RDS helps radio in-vehicle users to obtain traffic information faster, reduce congestion in the city, and increase the listening rate of the radio station.

c) Alternative Frequency(AF):

RDS AF help drivers automatic frequency switching between the Relay stations.

Inserting the RDS signal in the transmitter can also automatically switch between multiple different frequency broadcasts in the same program. The receiver automatically switches the substitute frequency AF by detecting the PI code in the RDS signal to ensure that multiple relay stations are passed. Broadcast stations that achieve nationwide coverage achieve seamless coverage and seamless listening. When the car passes the signal superposition zone between the two frequencies, the AF function of the RDS will automatically switch to the same program at different frequencies.

4. What is needed to build an RDS broadcast?

A: A RDS Fm radio transmitter equipment kit list:

1) FMUSER RDS-A encoder

2) FMUSER FSN-1000W Fm transmitter with 57khz

3) RDS encoding software

4) Cable and antenna

5. How can I build my rds channel on my Existing transmitter system?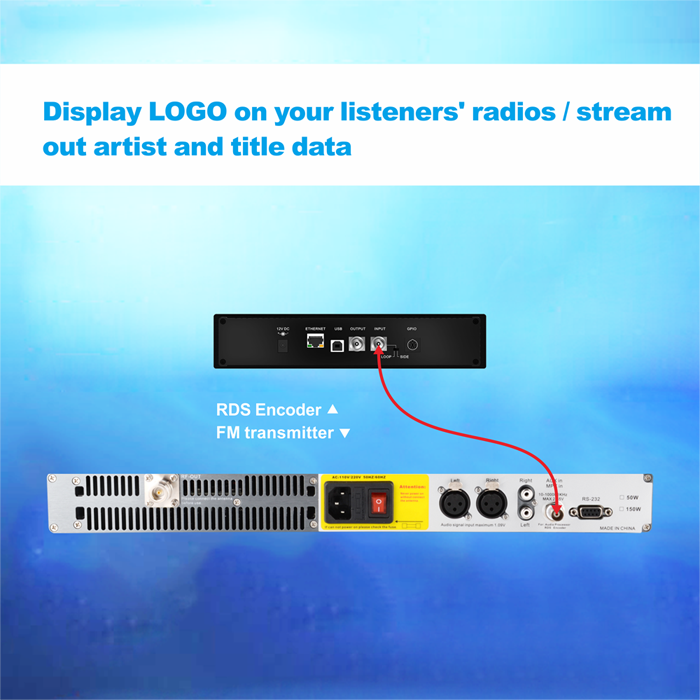 1) Confirm whether the current transmitter already has a 57khz input interface.

2) Purchase FMUSER's RDS-A encoder to insert your digital signal into your radio broadcast.

3) Run the Rds software on your computer and insert your radio station logo, traffic information…

4) Use a RDS radio to check the digital information you provide.

6. Do I need to pay for your RDS software at an additional cost?

No, You just need to purchase FMUSER RDS-A encoder and FSN series transmitter, we provide RDS software for free.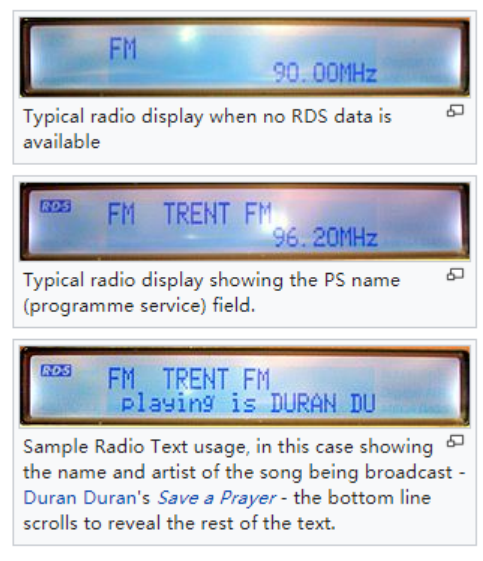 8. What are the characteristics of the FMUSER RDS-A encoder, and what is the difference compared to innovonics RDS encoder?

Innovonics RDS encoder is a good products , The biggest difference should be the same function, and we offer more economical encoders.

Let's look the the characteristics:

Technical Specifications
Parameter

Condition

Value

General

Supply voltage

12 V DC stabilized

Supply current

280 mA

Signal connectors

unbalanced BNC

Data connectors

1x USB (port 1), 1x Ethernet (port 2, 3, 4)

Network protocols supported

HTTP, SNTP, TCP, UDP, DHCP, DNS, SNMP

USB speed

software switchable 1200, 2400, 4800, 9600, 19200 bps

USB Mode

1 stop bit, 8 data bits, no parity, (no flow control),

ASCII or UECP (SPB 490)

TA switching

software or external switch

TA/EON1TA input

TTL with 10 kΩ pull-up, level or falling edge activated

Program sets

2

Program set switching

ASCII command, UECP command or external switch

Program switch input

TTL with 10 kΩ pull-up, level controlled

RDS Services supported

PI, PS, PTY, TP, AF, TA, DI, M/S, PIN, RT, RT+

TMC, EON, PTYN, ECC, LIC, TDC, IH, CT, ODA

RDS signal

Subcarrier frequency

57 kHz

Bandwidth

± 2.4 kHz (50 dBc)

Output level adjust

0.0 to 4.0 V p-p in 256 steps

Phase shift adjust

stereo transmission

Full range, in 9.5 deg. steps

Audio/MPX/Pilot input

Recommended load impedance

mono

< 10 kΩ

stereo MPX

< 2 kΩ

Recommended MPX voltage

1.3 - 8.0 V p-p

Passthrough voltage gain

2 Hz - 100 kHz

1 (0 dB)

Pilot tone level

min. 120 mV p-p

- recommended FM deviation

6.8 kHz

Pilot PLL capture range

8 Hz

Stereo encoder pilot frequency required

stereo transmission

19000 Hz ± 2 Hz

Output

Output impedance

100 Ω

Recommended load impedance

> 70 Ω, < 1 nF, no DC offset

Max. output voltage (RDS + MPX)

9.0 V p-p

Recommended RDS level

3 - 11 % of MPX
Appearance and Illustration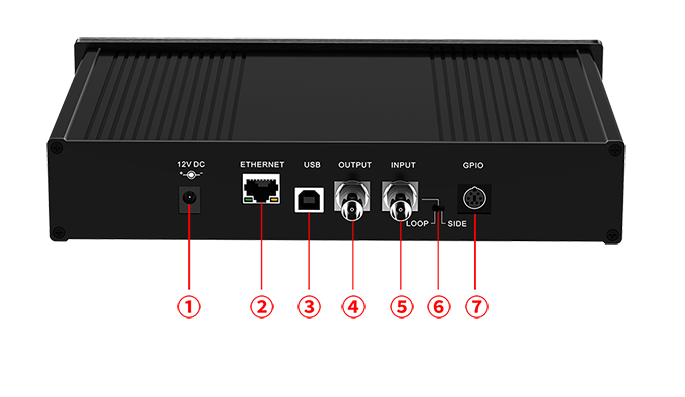 Power supply connector. See section 3.3 for details.

Ethernet RJ-45 connector.

Use a standard (direct) cat 5 Ethernet cable for connection to the Ethernet switch, router or wall-socket.

The Ethernet control includes internal website (referenced as "Port 2") and two independent user configurable general purpose ports (referenced as "Port 3" and "Port 4") designated for remote control via TCP or UDP protocol.

The encoder operates also with no cable connected.

USB standard B type connector. This port is referenced as "Port 1".

Use the USB for initial setup of the encoder or for its local control.

The encoder operates also with no cable connected.

RDS signal output to transmitter, modulated at 57 kHz subcarrier.

If the Loop/Side switch is set to the LOOP position, the Output is a sum of the RDS signal and the signal fed to the Input BNC connector.

Optional input for synchronization to the pilot tone or for mixing the RDS signal with existing modulation signal.

Allows the

input

signal to be added to the

output

signal.

Optional logical inputs for direct control of some RDS services (TA, PROGRAM).

The connector is a standard 6-pin PS/2 type.
1. 1pc 150W 1U FM Transmitter
2.
1pcs FMUSER RDS-A Encoder
5.
1pcs 12V 2A Power supply
Total:1299 USD
Item:1299 USD Shipping:0 USD

How far(long) the transmitter cover?
The transmission range depends on many factors. The true distance is based on the antenna installing height , antenna gain, using environment like building and other obstructions , sensitivity of the receiver, antenna of the receiver . Installing antenna more high and using in the countryside , the distance will much more far.
EXAMPLE 5W FM Transmitter use in the city and hometown:
I have a USA customer use 5W fm transmitter with GP antenna in his hometown ,and he test it with a car, it cover 10km(6.21mile).
I test the 5W fm transmitter with GP antenna in my hometown ,it cover about 2km(1.24mile).
I test the 5W fm transmitter with GP antenna in Guangzhou city ,it cover about only 300meter(984ft).
Below are the approximate range of different power FM Transmitters. ( The range is diameter )
0.1W ~ 5W FM Transmitter :100M ~1KM
5W ~15W FM Ttransmitter : 1KM ~ 3KM
15W ~ 80W FM Transmitter : 3KM ~10KM
80W ~500W FM Transmitter : 10KM ~30KM
500W ~1000W FM Transmitter : 30KM ~ 50KM
1KW ~ 2KW FM Transmitter : 50KM ~100KM
2KW ~5KW FM Transmitter : 100KM ~150KM
5KW ~10KW FM Transmitter : 150KM ~200KM
How to contact us for the transmitter?
Call me +8615915959450 OR
Email me sky@fmuser.org
1.How far you want to cover in diameter ?
2.How tall of you tower ?
3.Where are you from ?
And we will give you more professional advice.

About Us
FMUSER.ORG is a system integration company focusing on RF wireless transmission / studio video audio equipment / streaming and data processing .We are providing everything from advice and consultancy through rack integration to installation, commissioning and training.

We offer FM Transmitter, Analog TV Transmitter, Digital TV transmitter, VHF UHF Transmitter, Antennas, Coaxial Cable Connectors, STL, On Air Processing, Broadcast Products for the Studio, RF Signal Monitoring, RDS Encoders, Audio Processors and Remote Site Control Units, IPTV Products, Video / Audio Encoder / Decoder, designed to meet the needs of both large international broadcast networks and small private stations alike.

Our solution has FM Radio Station / Analog TV Station / Digital TV Station / Audio Video Studio Equipment / Studio Transmitter Link / Transmitter Telemetry System / Hotel TV System / IPTV Live Broadcasting / Streaming Live Broadcast / Video Conference / CATV Broadcasting system.

We are using advanced technology products for all the systems, because we know the high reliability and high performance are so important for the system and solution . At the same time we also have to make sure our products system with a very reasonable price.

We have customers of public and commercial broadcasters, telecom operators and regulation authorities , and we also offer solution and products to many hundreds of smaller, local and community broadcasters .

FMUSER.ORG has been exporting more than 13 years and have clients all over the world. With 13 years experience in this field ,we have a professional team to solve customer's all kinds of problems. We dedicated in supplying the extremely reasonable pricing of professional products & services. Contact email : sky@fmuser.org
Our Factory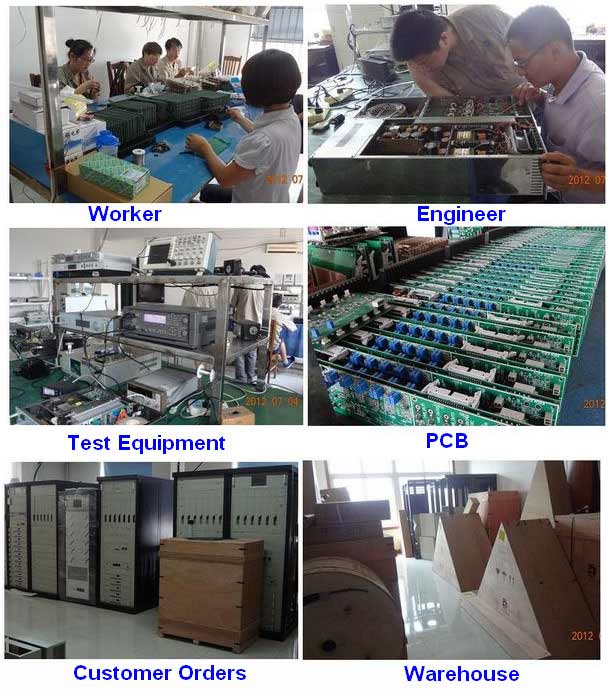 We have modernization of the factory . You are welcome to visit our factory when you come to China.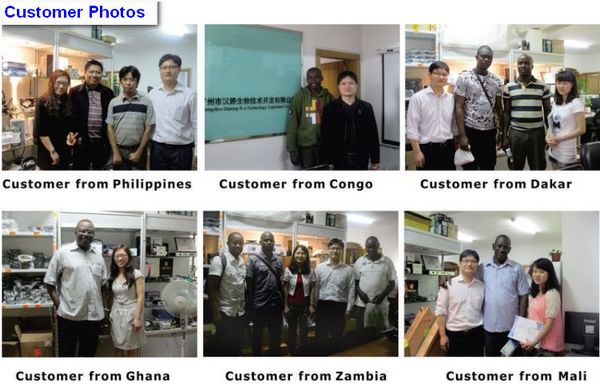 At present , there are already 1095 customers around the world visited our Guangzhou Tianhe office . If you come to China , you are welcome to visit us .
At Fair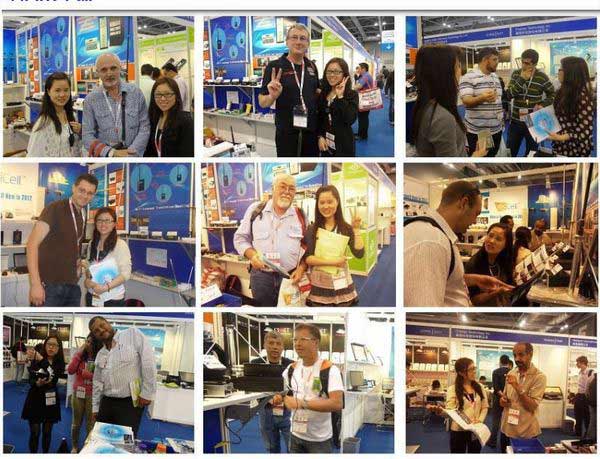 This is our participation in 2012 Global Sources Hong Kong Electronics Fair . Customers from all over the world finally have a chance to get together.
Where is Fmuser ?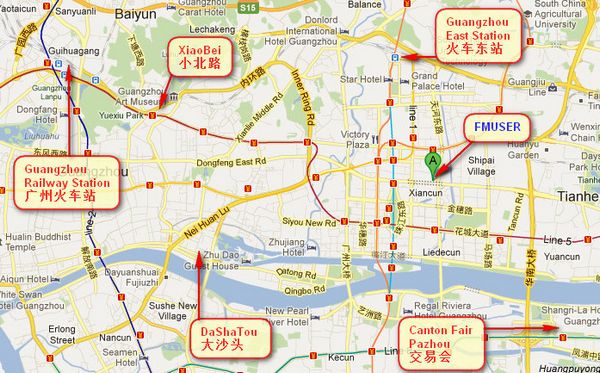 You can search this numbers " 23.127460034623816,113.33224654197693 " in google map , then you can find our fmuser office .
FMUSER Guangzhou office is in Tianhe District which is the center of the Canton . Very near to the Canton Fair , guangzhou railway station, xiaobei road and dashatou , only need 10 minutes if take TAXI . Welcome friends around the world to visit and negotiate .
Contact: Sky Blue
Cellphone: +8615915959450
WhatsApp: +8615915959450
Wechat: +8615915959450
E-mail: sky@fmuser.org
QQ: 727926717
Skype: sky198710021
Address: No.305 Room HuiLan Building No.273 Huanpu Road Guangzhou China Zip:510620

English: We accept all payments , such as PayPal, Credit Card, Western Union, Money Gram, Alipay, Money Bookers, T/T, LC, DP, DA, OA, Payoneer, If you have any question , please contact me sky@fmuser.org or WhatsApp +8615915959450
PayPal. www.paypal.com

We recommend you use Paypal to buy our items ,The Paypal is a secure way to buy on internet .

Every of our item list page bottom on top have a paypal logo to pay.

Credit Card.If you do not have paypal,but you have credit card,you also can click the Yellow PayPal button to pay with your credit card.

---------------------------------------------------------------------

But if you have not a credit card and not have a paypal account or difficult to got a paypal accout ,You can use the following:

Money Gram. www.moneygram.com

Pay by Money Gram to me :

First name/Given name: Yingfeng
Last name/Surname/ Family name: Zhang
Full name: Yingfeng Zhang
Country: China
City: Guangzhou


---------------------------------------------------------------------
Western Union. www.westernunion.com

Pay by Western Union to me :

First name/Given name: Yingfeng
Last name/Surname/ Family name: Zhang
Full name: Yingfeng Zhang
Country: China
City: Guangzhou



---------------------------------------------------------------------

T/T .

Pay by

T/T (wire transfer/ Telegraphic Transfer/ Bank Transfer)

SWIFT BIC: BKCHHKHHXXX
Bank name: BANK OF CHINA (HONG KONG) LIMITED, HONG KONG
Bank Address: BANK OF CHINA TOWER, 1 GARDEN ROAD, CENTRAL, HONG KONG
BANK CODE: 012
Account Name : FMUSER INTERNATIONAL GROUP LIMITED
Account NO. : 012-676-2-007855-0

* It will be sent in 1-2 working days when payment clear.
* We will send it to your paypal address. If you want to change address, please send your correct address and phone number to my email sky@fmuser.org
* If the packages is below 2kg,we will be shipped via post airmail, it will take about 15-25days to your hand.
If the package is more than 2kg,we will ship via EMS , DHL , UPS, Fedex fast express delivery,it will take about 7~15days to your hand.
If the package more than 100kg , we will send via DHL or air freight. It will take about 3~7days to your hand.
All the packages are form China guangzhou.
* Package will be sent as a "gift" and declear as less as possible,buyer don't need to pay for "TAX".
* After ship, we will send you an E-mail and give you the tracking number.

For Warranty .
Contact US--->>Return the item to us--->>Receive and send another replace .
Name: Liu xiaoxia
Address: 305Fang HuiLanGe HuangPuDaDaoXi 273Hao TianHeQu Guangzhou China.
ZIP:510620
Phone: +8615915959450
Please return to this address and write your paypal address,name,problem on note: