1/4 wavelengh antenna
The emissive fundamental of aerial is: Report travel in order to approach smooth rate in conductor, when the discontinuous dot in encountering conductor, it can be reflexed to answer signal source. If electric current is to hand in,change, and reflex electric current origin or feed dot are returned in appropriate hour, so electric current can get from the back each periodic aggrandizement, need very small energy only thereby with respect to the standing wave inside tenability antenna. Make as a result of the existence of standing wave aerial is in syntonic condition namely. Emit electric wave to the space thereby. Below syntonic condition, the midpoint that voltage is maximum in electric current (brace up child midpoint) it is very few, there is great value however in two end, ohm's law applies to aerial, in midpoint because electric current is big, voltage is low, resistor is so lesser, in two end case is apropos and opposite, impedance is consequently taller.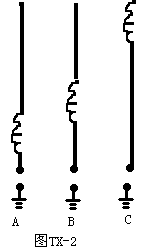 One, 1/4 wavelengh antenna
Graph TX-1 is the knot composition of a picture of this kind of antenna, this is antenna of a kind of planar ground connection, this antenna by perpendicular the 1/4 wavelengh that gets drive brace up child composition, brace up child as artificial as ground is relative, artificial ground places by 4 levels, and in electric the radiation club that going up is ground connection is comprised, the included angle of radiation club and ground is different, the impedance that aerial place presents is not identical also, be like, it is 34 Europe with the impedance when ground level is parallel; When be 45 degrees with ground level, impedance is 50 Europe.
2, to load antenna
According to the theory of transmission line, the open circuit line of 1/4 wavelengh is equivalent to circuit of resonance of a series connection, its are whole and so laden be to show pure resistor sex, in some circumstances, as a result of environmental element, the length of aerial often is restricted, appeared so to load antenna. According to the theory of transmission line, its impedance shows the diploid antenna that length is less than 1/4 wavelengh look sex, at this moment aerial does not produce resonance, for this we can add an inductance to be balanced with aerial on aerial, make aerial happening syntonic thereby, we call this kind of antenna to load antenna. If graph TX-2 is the antenna of means of 3 kinds of to load.
A is antenna of bottom to load, the advantage of this kind of antenna is mechanical function better, the radiation resistance that defect is means of this kind of to load is very low, and come out from radiate of to load coil as a result of most energy, its radiate efficiency is accordingly inferior.
C is antenna of coping to load, because its are mechanical performance is poor, be in so actual in very small application arrives.
B is antenna of mid to load, this kind of antenna although its radiate resistor still inferior, but distributing along the electric current of aerial evener, radiation efficiency is used extensively higher so.
please Click here to get our dipole antenna